At O'Neill's, all of our food product suppliers are the Best Irish Sources from around our green isle. We have spent years refining our range of artisan suppliers. We buy only the finest Irish Meat, Fish, Shellfish and Seasonal Vegetables giving our customers the best on offer.
Our meaty sausages are supplied by Jane Russell's Original Irish Handmade Sausages. Based in Kilcullen, Co. Kildare Jane Russell's family has been curing pork & bacon for 5 generations. She has used this wealth of knowledge in creating her traditional sausage recipes. Made from 80% prime cuts of pork. As Jane says; "No off cuts, no short cuts, just prime cuts"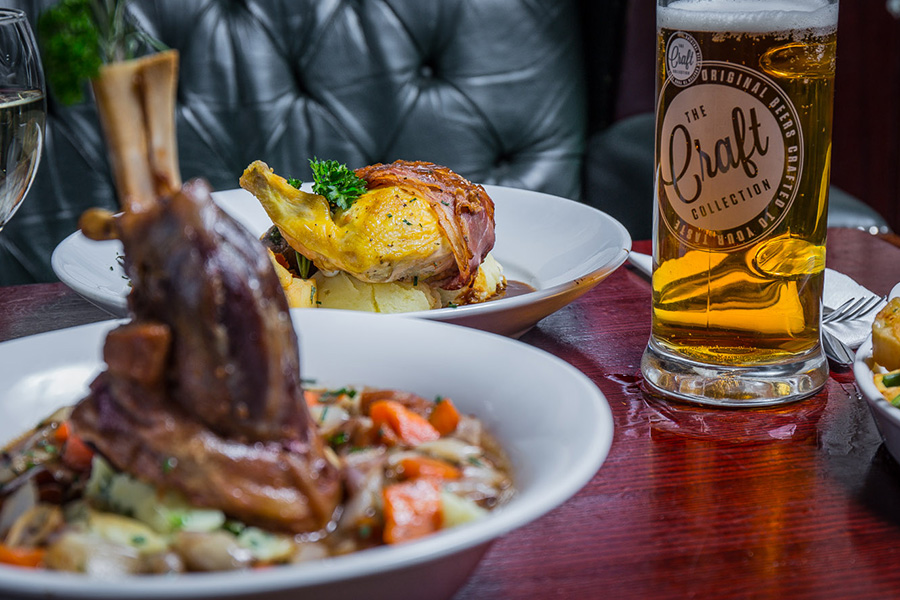 Our Black and White Pudding is from the award-winning Kelly's butchers of Newport, Co. Mayo. Dominick Kelly's Butchers is a well established traditional artisan butchers shop in Newport. It is well known as a regular prize winner for black and white puddings. They also produce the 'Putóg', a traditional black pudding originally put in a sheep's stomach casing.
Being Irish, potatoes have a soft spot in our hearts, and ours 'spuds' are supplied by Peter Keogh and Sons Ltd, Westpalstown, Oldtown, Co. Dublin. The Keogh family have been farming in North County Dublin for over 200 years. The heavy land in this area means it's harder to work but its rich in nutrients and produces the finest potatoes Ireland has to offer. Growing and packing only the best quality potatoes is part of our heritage and well-earned reputation.
A range of our cheese is sourced from the wonderful Ardsallagh goats cheese. The Ardsallagh Goat Farm is located near Carrigtwohill village, close to Cork city an some of Irelands finest hard and soft goats cheese. Ardsallagh soft goats cheese is a white cheese with a creamy texture. This cheese has a gentle flavour as it is made daily from fresh goats milk. Ardsallagh hard goats cheese is a semi hard, mature cheese. It develops its famous taste as it matures, from an extremely mild cheese when young, to a distinctive flavour as it ages. They believe in the production of honest, natural, fresh produce.
We also serve a selection of delicious Janet's Country Fayre sauces and preserves. Janet's Country Fayre was set up in 2007 and is based in County Wicklow. They hand make their products in small batches to traditional recipes in their country kitchen in Kilcoole, which is nestled at the foothills of the Wicklow mountains and home to many of Ireland's best known artisan food producers . Janet's Country Fayre 'Really Good Ketchup' and 'Really Good Brown Sauce' are the perfect accompaniment to our Full Irish Breakfast and be sure to smother your Toast in Lady G's Delicious Hand-Made Jams.
Yellow Door, from Portadown, Northern Ireland, supply O´Neill´s with a selection of artisan continental breads. Simon Dugan´s speciality breads, patisserie and tasty dishes are freshly prepared every day, using the best of Northern Ireland produce. Featured in A Taste Of Ulster Guide.